At The Farm Gate
May 2017
By Joanie Stiers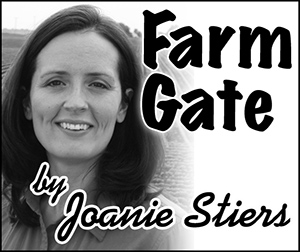 Food lacks Four-Star Support
I identify myself as country to the core, a woman who scoops chicken manure and drives a tractor on occasion. That aside, I function like many other moms, who shop online when the kids sleep, regardless of a farmhouse or big city setting. From the west end of my country couch, I'll buy anything from four-star toilet paper and furnace filters to consumer-approved kids' sneakers and specialty dog food for our aging yellow lab.
The short of it: Online reviews influence my purchases. When our 15-year-old washing machine literally fell apart, web-based customer ratings narrowed my choices for a new one. When our son put a virtual reality headset on his birthday wish list, I turned to the consumers who own such devices. And how could I ignore an average 4.8-star review out of 5 stars from 7,399 pairs of feet? You could call my foot file an "impulse buy" on Amazon.com for someone with calloused feet.
The more plentiful the user reviews, the more clout that product's stars earn with me. But food stands among few of our household purchases with little to no outside influence from fellow users. Grocery products lack a reliable online rating system with accompanying gold stars. Instead, society shops from shelves and coolers of packaged foods with well-designed advertisements and crafty, sometimes deceitful, wording to entice purchases. We lack the hundreds of user reviews to verify purchases, the reviews that help us see beyond the packaging and through the marketing tactics.
Thankfully, I rely on personal food production experiences. Often, I can see the label lingo that matters (and doesn't matter). And like frequent grocery shoppers, I recall my previous cooking and dining experiences with a particular food item or brand. My grocery decisions would pose more of a challenge without my farm and food production experiences. In fact, the meanings behind organic, natural, GMO, gluten and animal antibiotics likely would confuse me. Are some consumers out there guessing in the food aisles as I do in the pet food aisle? Really, does my cat want seafood- or chicken-flavored food? More importantly, does it really matter?
Eliminate some guess work on human food and take a look at the fresh pages of www.WatchUsGrow.org. This resource from Illinois Farm Families offers a quick and easy way for busy Illinois consumers to learn about – and even ask – their most pressing food questions. You may even find a farmer you know, but first check out the site's section on "Label Lingo." As you will see, sometimes labels mislead us. And we have no reliable user rating system to debunk them.
About the author: Joanie Stiers' family grows corn, soybeans and hay and raises beef cattle in West-Central Illinois. She is a wife and mother of two farm kids.