Recipes
Apple Cake
Submitted by Patty Paden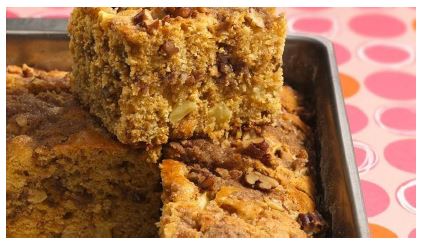 4 c. diced, peeled apples
2 tsp. cinnamon
2 c. sugar
1 tsp. salt
2 c. flour
2 tsp. vanilla
2 tsp. baking soda
1/2 c. nuts (optional)
2 eggs
1/2 c. oil
Place diced, peeled apples in large bowl. Combine dry ingredients with apples.
In separate bowl, beat eggs, then add oil and vanilla. Combine with apple mixture.
Don't forget the nuts if you use them.
Pour into 13 x 9 pan, bake at 350 degrees for 35-45 min. Test with toothpick
to see if done.
Christmas Brunch Casserole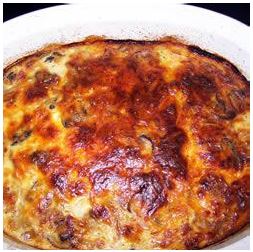 1 pound bacon
2 onions, chopped
2 cups fresh sliced mushrooms
1 tablespoon butter
4 cups frozen hash brown potatoes, thawed
1 teaspoon salt
1/4 teaspoon garlic salt
1/2 teaspoon ground black pepper
6 eggs
1 1/2 cups milk
1 pinch dried parsley
1 cup shredded Cheddar cheese
Directions
1. Place bacon in a large skillet. Cook over medium-high heat until evenly brown. Drain and set aside. Add the mushrooms and onion to the skillet; cook and stir until the onion has softened and turned translucent and the mushrooms are tender, about 5 minutes.
2. Grease a 9×13-inch casserole dish with the tablespoon of butter. Place potatoes in bottom of prepared dish. Sprinkle with salt, garlic salt, and pepper. Top with crumbled bacon, then add the onions and mushrooms.
3. In a mixing bowl, beat the eggs with the milk and parsley. Pour the beaten eggs over the casserole and top with grated cheese. Cover and refrigerate overnight.
4. Preheat oven to 350-400 degrees F (200 degrees C).
5. Bake in preheated oven for 1 hour or until set.
Note: If you're baking this the same day you make it (so it's not refrigerated) reduce the bake time to 45 minutes.
Crockpot Cherry Dump Cake
1 (21 oz) can cherry or blueberry pie filling
1 package yellow or white cake mix
8 tablespoons butter, cut up
1/2 C. chopped pecans or walnuts, toasted if you have time
Rub the slow cooker generously with some of the butter. Place pie filling in the slow cooker. Mix dry cake mix and remaining butter until crumbly, sprinkle over filling. Sprinkle with nuts. Cover and cook on low for 2 – 3 hours. Serve warm in bowls. Top with whipped cream or serve side by side with a scoop of very cold vanilla ice cream.
Notes: Try using a different pie filling such as blueberry or peach. Goes very well with ice cream.
Fruit Cobbler
From Gerri Rhoades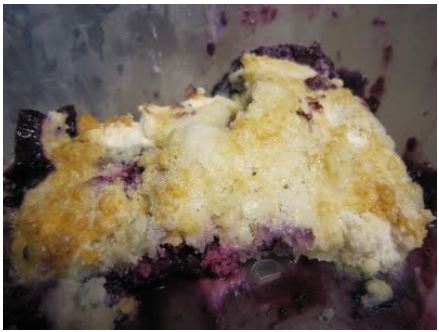 Ingredients
2 bag(s) 12 oz. frozen fruit – use any fruit that you like
1 box white cake mix (don't use one with pudding in the mix)
1 can 7up 10-12 oz. or Sierra Mist
Directions
Spray a 9×13 pan and spread frozen fruit evenly in bottom of the pan.
Sprinkle dry cake mix over the frozen fruit.
Slowly pour the 7-Up over the dry cake mix. DO NOT MIX!
Cover with foil.
Bake for 20 minutes at 350 degrees F.
Uncover and bake for 40 minutes.
Bake at 350° for 1 hour.
Perfect for diabetics if using cake mixes with no sugar added and diet soda.
Serves: 16
Prep Time: 5 Min
Cook Time: 1 Hr
Red Velvet Sandwich Cookies
From the Recipe Book of Marlyn McCafferty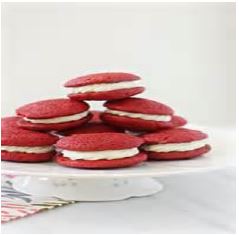 1 Box Red Velvet Cake Mix
1 Large Egg
1 Tsp. Vanilla
½ Cup Butter
Icing (See note below.)
Melt butter; set aside to cool. Place cake mix, egg, cooled butter, and vanilla in large bowl. Mix by hand until well blended and dough is formed.
Form dough into a smooth 12-inch roll on wax paper, making sure it is even thickness. Wrap in plastic wrap and refrigerate 1 hour or overnight.
Preheat oven to 350 degrees. Lightly grease baking sheet. Unwrap dough and set on wax paper. Using a sharp knife, cut into 48 slices about ¼ inch thick.
Place on baking sheet about 2 inches apart.
Bake 1 sheet at a time in center of oven for 10-12 minutes or until set. Cool 1 minute. Transfer to wire rack to cool completely.
Spread frosting on half the cookies. Top with another unfrosted cookie. Gently press together.
Many people like to use cream cheese icing to put in the middle. My family likes the real Red Velvet Icing. (Recipe is below.)
Frosting for Red Velvet Cake:
1 cup whole milk
3 T flour
Dash of Salt
1 cup butter
1 cup sugar
1 tsp. vanilla
Cook milk and flour and salt together on low heat until thick. Set aside to cool. Cream butter, sugar, and vanilla. Add to completely cooled mixture and mix until it looks like small peaks. Frost between each cookie.
Spaghetti Fruit Salad
From Viola West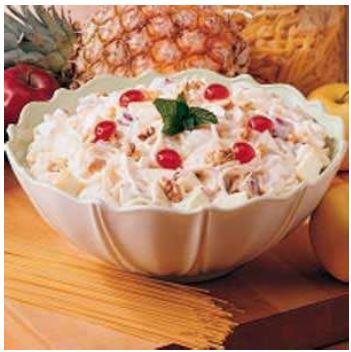 Ingredients
1 cup confectioners' sugar
2 eggs
1/2 cup lemon juice
1/2 teaspoon salt
1/2 pound spaghetti, broken into 2-inch pieces
1 can (20 ounces) pineapple tidbits
3 medium tart apples, diced
1 carton (8 ounces) frozen whipped topping, thawed
1/4 cup chopped walnuts
Maraschino cherries, halved
Directions
In a saucepan, combine sugar, eggs, lemon juice and salt; cook and stir over medium heat
until temperature reaches 160° and mixture is thickened, about 4 minutes. Cool
completely.
Cook spaghetti according to package directions; drain and rinse in cold water. Place in a
large bowl.
Drain pineapple, reserving juice. Pour juice over the spaghetti; stir in apples. Toss gently;
drain. Stir in the egg mixture and pineapple. Cover and refrigerate overnight.
Fold in whipped topping just before serving. Garnish with walnuts and cherries. Yield:
12-14 servings.
Prep: 20 minutes + chilling
Special Request Cake
From Linda Young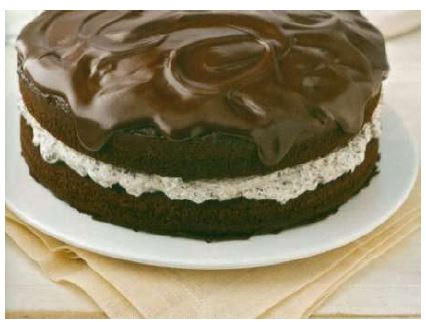 1 pkg. (2-layer size) devil's food cake mix
1 pkg. (4 oz.) Semi-Sweet Chocolate
1/4 cup butter
1 pkg. (8 oz.) Cream Cheese, softened
1/2cup sugar
2 cups thawed COOL WHIP Whipped Topping
12 OREO Cookies, coarsely crushed
HEAT oven to 350ºF.
PREPARE cake batter and bake in 2 (9-inch) round pans as directed on package.
Cool cakes in pans 10 min. Invert onto wire racks; gently remove pans. Cool cakes
completely.
MICROWAVE chocolate and butter in small microwaveable bowl on HIGH 2 min. or
until butter is melted. Stir until chocolate is completely melted. Cool 5 min.
Meanwhile, beat cream cheese and sugar in large bowl with mixer until blended.
Gently stir in COOL WHIP and crushed cookies.
PLACE 1 cake layer on plate, spread with cream cheese mixture. Top with
remaining cake layer. Spread top with chocolate glaze; let stand 10 min. or until
firm. Keep refrigerated.
Tater Tot Casserole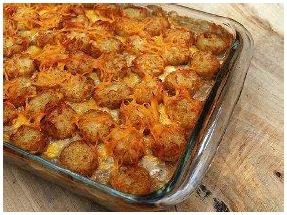 Ingredients:
1 Pound of hamburger
1 Can – Cream of Chicken Soup
1 Can – Cream of Celery Soup
12 Slices American Cheese
1 Bag 32 oz. Frozen Tater Tots
Directions:
Grease one 9" x 12" glass-baking dish and set aside
Brown hamburger and drain
Spread hamburger evenly in the bottom of dish
Mix the cream of chicken and cream celery together and spread over the top of hamburger
Lay cheese on top of soup mixture
Lay tater tots while still frozen over the cheese
Bake in oven at 350 degrees for 45 minutes or until tater tots are golden brown or heated throughout.
May be dipped out with large spoon or if cooled, a with a spatula.
To use this for a breakfast dish, substitute seasoned sausage for the hamburger.
Two Timin' Pasta Bake
From Patty Paden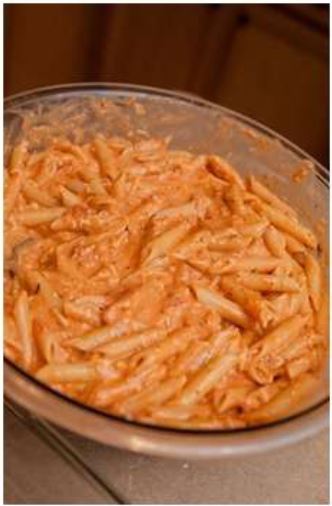 Ingredients:
Box penne pasta
1 (24oz.) jar Marinara sauce
2 cups shredded mozzarella cheese
1 (1 15 oz.) jar Alfredo sauce
1 cup shredded parmesan cheese
Directions:
Cook pasta according to directions and drain. Mix the sauces together in a large bowl.
Add the mozzarella and stir to combine. Then toss in the penne and toss to coat.
Pour pasta into 9×13 baking dish and cook on 350 for 20-25 minutes or until bubbly. Remove
from oven and sprinkle with shredded parmesan cheese and bake for another 5 minutes.
We paired ours with a few slices of fresh garlic bread and it was definitely
reminiscent of being in a restaurant….with naked kids running through the dining room and
chasing each other with legos. If you're looking for an easy weeknight dinner
that's full of flavor, then this is it.