Overview of the Montgomery County Farm Bureau
The Montgomery County Farm Bureau currently has just little under 3000 members.
Of the members, 1254 members are voting members, with the remaining 2032 being the non-farm community.
The Montgomery County Farm Bureau has 18 directors representing the 19 townships within the county.
A Brief History of Montgomery County Farm Bureau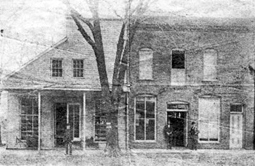 On January 22, 1917, a group of leading farmers in Montgomery County held a meeting to consider organizing a Farm Bureau. This had been under discussion for some time. At this meeting they elected the first Board of Directors. Mr. H.A. Cress was elected the first President.
They rented an office room in the Yoffie Building in Hillsboro, and took steps to employ a Farm Adviser and signed a contract with Alden Snyder. Snyder was a graduate of University of Illinois with a degree in agriculture. By April, 1918, they had 328 members, and were holding many meetings. Before the end of the year, they had helped organize for farmers' grain elevators, and were teaching the members how to grow sweet clover and prepare the land to grow alfalfa. The member were encouraged to grow soybeans, and within five years Montgomery County and four adjoining counties were growing 25 percent of all the soybeans grown in the world.
Farm Bureau was also testing soil and treating stored wheat and oats to eliminate weevil. They organized Swine Growers Clubs, Calf Clubs, 4-H Clubs, and the Dairy Herd Improvement Association. Montgomery County had considerable rolling land, and they soon started trying to keep the good soil from washing away, and acted on soil conservation practices.
During the summer of 1919, the Board of Directors decided to join with the Illinois Agriculture Association and the American Farm Bureau. In 1926, the Farm Service or Farm Supply Company was organized, and this has grown into a large organization today, which employs many people and provides many services to the farmers. In 1927, Country Mutual Insurance Company was organized.
In 1928, the Farm Bureau had outgrown their office space in the Yoffie Building and purchased a lot at the corner of Berry and Water Streets in Hillsboro. The new building was completed and in use before the depression struck.
In 1935 the Farm Bureau again found itself in a squeeze for space as it was growing by leaps and bounds. They purchased a building at their present location, and along with their affiliated companies, moved into the new building.
In 1948, the Farm Bureau Building was enlarged and completely remodeled. In 1951, a disastrous fire completely destroyed the south potion of the Farm Bureau Building and damaged the north potion of the Building extensively. Work was started on rebuilding almost immediately.
Everyone of our past presidents have done a marvelous job and certainly deserve much credit for giving of their time and efforts for such a worthy cause.The Montgomery County Farm Bureau has been highly successful and has consistently worked for the betterment of its members, which today number just over 3000 members. Courtesy: James Hilt
Current Farm Bureau Staff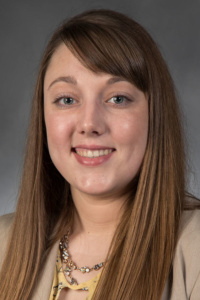 Katie Wilson
Manager