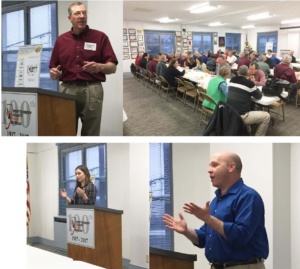 The Montgomery County Farm Bureau of Directors hosted members of the Montgomery County Board, county officials, mayors and village presidents from throughout the county and state legislators to a breakfast at 7:00 a.m. Tuesday, March 14, before the monthly county board meeting.
Farm Bureau President Jay Niemann below introduced two state legislators in attendance (left) Rep. Avery Bourne and (right) Senator Tom Cullerton. Senator Cullerton is from Villa Park in DuPage County but is assigned to Montgomery County in the Illinois Farm Bureau "adopt-a-legislator" program.
Both Senator Cullerton and Rep Bourne spoke before heading to Springfield. County Board Chairman Roy Hertel also described county projects.   Farm Bureau Manager thanked Sheriff Jim Vazzi for his decades of work.