Thank you to Mike Plunkett with The Journal-News for attending our meeting and writing this nice article!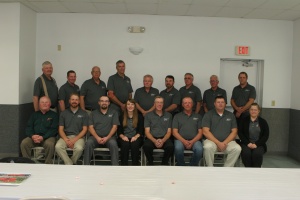 "Members of the Montgomery County Farm Bureau celebrated a successful year at their 101st annual meeting, Thursday, Nov. 8, at the Knights of Columbus Hall in Taylor Springs.
Members reelected directors Justin German of Audubon Township, Garrett Fuchs of Harvel, Lynn Black of Hillsboro and Mark Knodle of Witt, and elected Robert Coleman as Grisham Township director.  They join directors Tom Elmore of Bois D'Arc, Adam Anderson of Butler, Brad Young of East Fork, Dennis Hand of Fillmore, Randy Singler of Irving, Tyler Helgen of North Litchfield, Jay Niemann of South Litchfield, Heath Houck of Nokomis, Chad Millburg of Pitman, Joe Pope of Raymond, Kris Reynolds of Rountree, Kevin DeVries of Walshville and Paul Beeler of Zanesville.
In his remarks, Jay Niemann, who has served as president of the board of directors since 2013, introduced fellow directors and asked veterans in the crowd to stand and be recognized.
He introduced Secretary Justin German who read the minutes from last year's meeting, and Treasurer Heath Houck who reported a net worth of $1.1 million for the Montgomery County Farm Bureau.
Manager Katie Wilson, who began the job in April, reported that the Montgomery County Farm Bureau has become an "activator county," an Illinois Farm Bureau political action committee.  She also highlighted Montgomery County Farm Bureau member benefits, and pointed out that the organization now has a Facebook page.
She also reported that the foundation awarded six $1,500 scholarships last year.
Jean Anderson, president of the Women's Committee, reported on activities for the past year, including the annual soup luncheon.
Matt Belusko reported that the Young Leaders organization has grown to nearly 20 members, most of whom are present at every meeting.
Country Financial agency manager for west central Illinois, J.R. Earley, thanked local agents Allen Poggenpohl, Nathan Clementz, Greg Holcomb and Tony Marten, along with crop specialist Jim Beeler.
Gary Meyers, president of M and M Service Company, reported on a successful year that will provide healthy returns for member owners.
Members approved President Niemann's appointment of Joe Pope, Tom Elmore, Kevin DeVries and himself to the IAA annual meeting, and Heath Houck, Kenny Folkerts and Brian Niemann as alternates.
Hillsboro FFA members helped serve meals, catered by the Hillsboro Knights of Columbus.  Hillsboro FFA advisor Noah Gallion asked a blessing before dinner, and FFA members led the Pledge of Allegiance.  Vice President Kevin DeVries also thanked Denny Held for the sound system and the Women's Committee for decorations."